In January 2018 this article by Tom appeared on Linked In:
Tom Levitt, author of 'The Company Citizen', explains how the book came to be written.
'In 1948 the world's great powers, 58 countries, came together at the UN to tackle the world's problems. If today we brought together the 100 greatest economies to do the same, over 40 would be companies, not countries.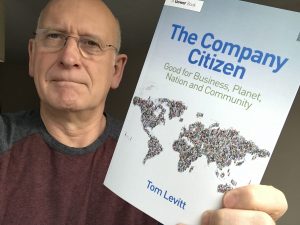 'In 2000 the UN laid down the Millennium Development Goals, 6 challenges to world leaders. In 2015 these became 17 Sustainable Development Goals, many of which cannot be achieved without the active participation of business.
'Yes, over decades business has helped to cause many of the world's problems: climate change, human rights abuses, exploitation of the poor and the depletion of natural resources. That's all the more reason to demonstrate that there's an attractive business case for investing in renewable energy, adopting a 'circular' approach to resources and getting the best out of supply chain workers rather than bleeding them dry.
'And what applies on a planetary scale is just as true at national and community levels. It's in business' interests to help reduce mental health problems, to increase employee engagement through meaningful work in the community, to invest in the skills they need for the future'.
After a career in education and government, including 13 years as a Member of Parliament, and a lifetime of supporting charities, Tom realised ten years ago that not only could business be a force for good but that it had to be so. Today's problems can't be solved by the public and voluntary sectors alone, business has to be part of the solution; a long term 'business case' is what makes such solutions sustainable. Business, he says, is more capable of thinking long term than is Government; the tragedy is that too many businesses too often focus on only short term gains.
He says: 'I wrote 'The Company Citizen' to demonstrate that at every stage, in almost every challenge society faces, business doing good is actually doing good business'.
You can order the book here: https://www.routledge.com/9781138063037