Fair for You is a brand new idea: there are other lenders of last resort to those too poor to be able to use credit cards, bank overdrafts or a Curry's in-house finance deal to buy essential household equipment. But none have the supportive, transparent and ethical approach of Fair For You.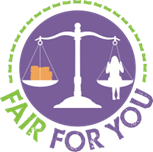 Fair for You is a social enterprise owned by a charity. The social enterprise provides finance for people to buy washing machines, fridges, bedroom furniture, sofas, baby cots… whilst the charity ensures that the ethics of the organisation are maintained and the campaign against high cost, exploitative lenders is waged.
Here's the Campaign for Responsible Credit talking about Fair For You on BBC Radio 4's MoneyBox, April 2016 (audio)
In January 2015 Tom joined forces with FFY's founder Angela Clements, whose background in banking and credit unions equipped her well to design and organise her brainchild; but she realised that she had no background in either charities or social enterprise. Enter Tom Levitt, introduced to her as a leading voice on 'using the tools of business to create public good'. Over the months that followed the pair raised £1.7M in loans (from Esme Fairbairn Foundation, Joseph Rowntree Foundation, Tudor Trust and the Barrow Cadbury Trust) and grants (from Garfield Weston Foundation and JP Morgan Foundation) to get the organisation off the ground. In this way they created the charity (June 2015) and the social enterprise (September 2015). Fair For You formally launched in February 2016 with Angela as CEO of both arms and Tom chair of the charity trustees and a non-executive director of the social enterprise board, which was initially chaired by outgoing head of Midcounties Co-op, Ben Reid and subsequently by Howard Bell, formerly of Just Giving.
In spring 2017 the third report on the social impact of Fair For You was published by the Centre for Responsible Credit. The impact has been quite phenomenal!
In October 2016 Fair For You was nominated in two categories at the Social Enterprise of the Year awards. And in June 2017 it received BOTH Best Newcomer AND Customer Champion Awards at the Consumer Credit Awards ceremony.
This is what Church Action on Poverty concluded (press release, 1 February 2016) when looking at a new, Hotpoint, 60cm fridge freezer purchased from Fair For You compared to the industry leader, BrightHouse:
Catalogue price: Brighthouse £478.33, Fair for You £373.99
Delivery and Installation: Brighthouse £55.00, Fair for You £8.40
3-year warranty: Brighthouse £133.93, Fair for You £80.88
Total purchase price: Brighthouse £667.26, Fair for You £463.27
Weekly payments: Brighthouse £8.50, Fair for You £8.50
Number of weeks: Brighthouse 156, Fair for You 69
APR: Brighthouse 69.9%, Fair for You 42.6%
Total cost of credit: Brighthouse £658.74, Fair for You £120.38
Total payable: Brighthouse £1,326.00, Fair for You £583.65
Even more impressive than this saving is the customer journey: there was a 100% positive response to our customer surveys during FFY's pilot period and by mid-2017 was still scoring 9.8/10 on Facebook's Trustpilot customer assessment, making it the most trusted finance company in the country.