Will coronavirus change the world of business? On one hand we may see a new sense of civic and environmental responsibility pervade Britain's boardrooms but on the other change is frightening. The magnetic power of 'back to normal' may be too much to resist.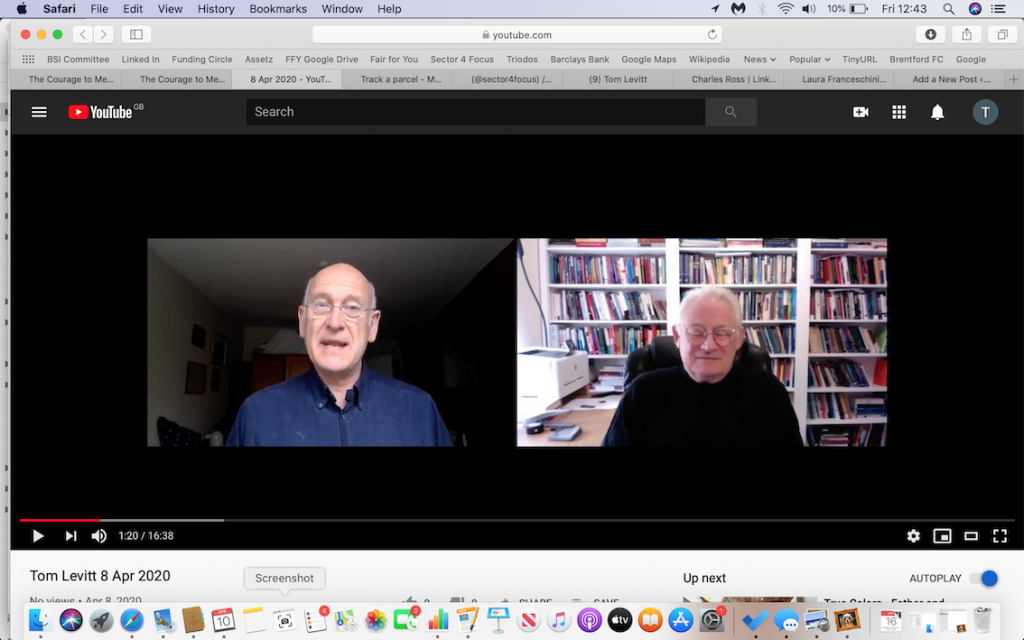 In reality it will be somewhere in between, with different companies choosing different routes to the future. Some home working, where it's been implemented successfully, looks like it may be here to stay: 'I probably don't need to be in the office more than two days a week' is a sentiment I've heard more than once. What impact will that have on congestion, of traffic or of public transport? A positive one. Technology that didn't exist even five years ago is now available to save time and time is money.
Companies that face the public, especially the larger ones, have been tested and proved to be nimble and usually appropriate in their responses. Over the second half of March supermarkets changed their floor management, customer service, payment practices, supply chains and associated logistics, even riding out that brief period of irrational panic buying. Smaller companies, especially those in corporate supply chains, found change thrust upon them with a greater or lesser degree of sensitivity.
And that sensitivity matters. A voluntary Government scheme, the Prompt Payment Code, encourages supply chain purchasers to pay suppliers within 30 days of invoice. The code's web site has been upgraded – but the number of signatories is down by a quarter (from memory) from its peak of over 3,000. Also new on the site is a list of code signatories who have failed to live up to the standard, regrettably including some of UK's 'top' businesses.
30 days has long been a demand of the Federation of Small Businesses. When SMEs go to the wall because they can't pay their own bills it's often because their customers don't pay theirs promptly. 30 days is a perfectly reasonable period and yet the trend has been for such periods to get longer – 90 days and even 120 are not uncommon. And it's suddenly getting worse again. If coronavirus teaches us nothing else, it's that we're all in this together. Companies which are perfectly capable of paying bills within 30 days should do so. Full stop. 3,000 signatories out of 5 million is not enough!
Companies are queuing up to receive government money to help them out of our shared crisis, and it's reasonable that their needs should be met almost whatever the short term cost – the Government's fortunate that long term borrowing is so cheap. But Government gets its income from taxation, so perhaps they should make it a condition for receiving grant support that companies sign up to the Fair Tax Mark? 
The Mark encourages and recognises organisations that pay the right amount of corporation tax. Billionaires who name their airlines after the tax havens they live in ought not to qualify. Co-operatives currently lead the list of those proud to do their bit, with SSE, Lush, Timpsons and Unity Trust Bank all up there.
Now's a good time to look at becoming a Living Wage employer. Paying a living wage – addressing the real cost of basic living – promotes both employee engagement and productivity but also public respect. It also saves the taxpayer money by reducing the cost of benefits whilst employers should take pride in keeping their staff out of poverty. If we're to pull together then companies should follow the 6,000 businesses, including many well-known names, that are leading the way.
There's a lot of evidence that during the coronavirus era scrutiny of employer behaviour is heightened and poor behaviour condemned, even punished. The Scottish hotel that sacked all its staff, turfing them out of their homes, was forced to recant. Some banks and other large companies are withholding dividend payments, at least until the long term position is more clear; although this doesn't help pension providers dependant on dividend income the cautious approach is right. Premier League football clubs, owned by millionaires employing other millionaires on the pitch and minimum wage staff off it, have revoked decisions to ask the taxpayer to fund their furlough schemes whilst the players themselves are contributing in a big and collective way to NHS charities. As Wayne Rooney says, 'at least we pay our tax' – are Formula 1 listening?
We need to go further. The Chancellor has made eye-watering sums available to help business through this crisis and kept the administration to a minimum (on paper, at least). But some who don't deserve support, who are fit to weather the storm but choose to spend their money in self-serving ways, should be excluded. EasyJet are using their £600M bail out to fund its boss' £60M salary and a £174M dividend payment, and Tesco are doing something similar; this is not on. Any company still paying excessive dividends, boosting their share price though buyback schemes and paying ginormous salaries and bonuses are attracting attention and opprobrium like never before. Why not say that any company that pays its top staff more than 40 times what it pays the lowest (roughly £8M compared to £20,000) will get no Government help?
Charities, meanwhile, are managing decline and even closure – at a time when they are most needed – despite a paltry gesture from the Treasury.
Everyone can see that the environment has benefited from the first month of freezing the economy: fresh air and birdsong bring that home to us. The measures needed to allow humanity, individually, collectively and corporately, to meet our Paris commitment of limiting climate change to 1.5 degrees suddenly don't look so daunting compared to the obligations that the pandemic has brought.
What I have described is not a list of penalties, of prices we have to pay. It is a list of opportunities. You have to grasp opportunities while you can: such windows may not be this open forever.