Tom will be featured in the May edition of the newsletter of the Association of Chairs, the body representing people who chair charity trustee boards. Here's a sneak preview of what the bio piece will say…
I chair the charity Fair For You (www.fairforyou.org.uk). We're just a few months old: if you don't live in a deprived community, where poor people pay through the nose for credit, you might not have heard of us. But if you care about defeating poverty then you ought to!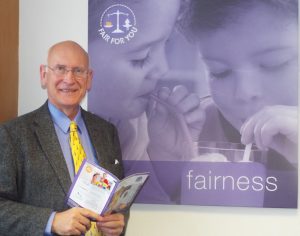 Fair For You charity owns Fair For You Enterprise, a community interest company and registered lender. We help those who can't get finance from banks, credit cards or even credit unions to buy life's necessities – washing machine, bed, fridge – to live with dignity. Typically on a single £250 High Street-branded washing machine we'll save that family £1,000 – yes, £1,000 – compared to some of the bigger rent-to-own merchants. Take a look – www.fairforyou.co.uk.
I spent much of 2015 working with our founder/CEO, Angela Clements, a former banker and credit union boss with a passion for lending, creating the twin organisations. We raised £1 million of start-up funds from social investors. Now we're up and running and it's so exciting! Our first social impact report, after just two months, shows we've already saved our customers a quarter of a million pounds and brought respect to their lives through high customer service values.
That's why I do it. But why as Chair?
Fair For You is my fourth major charity trustee position, my third as chair. It started by being headhunted for RNID's board (1998-2003) when I was a rookie Member of Parliament. Then I was appointed to chair the late, lamented Community Development Foundation (2004-10). I must've got the knack, because after leaving Parliament in 2010 I was headhunted again, to chair Concern Worldwide (UK) (2011-14); and today I've got a couple of lower profile trusteeships also.
During 13 years as an MP I was Parliament's 'go to' person for charities on charity issues: not about their missions, as each had their own champions, but about what being a charity meant. I chaired the All Party Group on Civil Society (formerly 'Volunteering and Charities') for over ten years and was a member of the Neuberger Commission on the Future of Volunteering (2007-08).
I like having influence and seeing good done. I like representing organisations that work well. I've always taken pride, as Chair, in the quality of my relationship with my CEO, which has always been about respect and support for each other's roles – though no two charities feel the same.
Today my day job is consultancy, 'using the tools of business to create public good'. I work with big corporates, SMEs, charities, public sector and others. I'm a non-exec director of three companies, too. I've written two books about my work and later this year another chair will come my way: of an Ella Forum (www.ella-forums.org). There are over 20 such groups which each bring together a dozen leaders of smaller charities in self-help, professional development caucuses devoted to mutual support. Watch out!