Sector 4 Focus is celebrating five years in business, breaking down barriers between sectors and using the tools of business to create public good.
"A brilliant example of the new breed of olderpreneurs" – says Matthew Taylor, Chief Executive, RSA.
To celebrate this, please read our special two-page five year report (containing an attractive discount on Welcome to GoodCo). Double-click images to enlarge.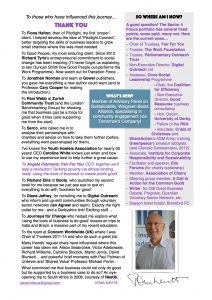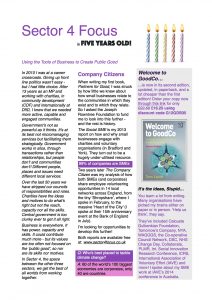 Putting it another way…
Using the Tools of Business to Create Public Good

In 2010 I was at a career crossroads. Giving up front line politics wasn't easy – but I had little choice. After 13 years as an MP and working with charities, in community development (CDF) and internationally at DfID, I knew that we needed more active, capable and engaged communities.
Government's not as powerful as it thinks. It's at its best not micromanaging services but facilitating them strategically. Government works in silos, through transactions rather than relationships, but people don't and communities don't! Different people, places and issues need different local services. 
Over the last 50 years we have stripped our councils of responsibilities and roles. Charities have the ideas and motives to do what's right but not the reach, capacity nor all the skills. Central government is too clunky ever to get it all right.
Business is everywhere. It has power, capacity and skills. It could contribute much more – but its values are too often not focused on the 'public good', so nor are its skills nor motives.
In Sector 4, the space between the other three sectors, we get the best of all worlds from working together.
Company Citizens
When writing my first book, Partners for Good, I was struck by how little we knew about how small businesses relate to the communities in which they exist and to which they relate. So I asked the Joseph Rowntree Foundation to fund me to look into this further – and the rest is history.
The Social SME is my 2013 report on how and why small businesses engage with charities and voluntary organisations (in Bradford and York). They turn out to be a hugely under-utilised resource.
Remember: 99% of companies are SMEs
Two years later The Company Citizen was my analysis of how both SMEs (and corporates) share employee volunteering opportunities in 14 local networks across England, from the tiny 'Shropshare', where I spoke in February, to the massive 'Heart of the City' (I spoke at their 15th anniversary event at the Bank of England in July).
I'm looking for opportunities to develop this further!
Q: Who's best placed to tackle climate change?
A: 60 of the world's 100 biggest economies are corporates, only 40 are countries
…is now in its second edition, updated, in paperback, and a lot cheaper than the first edition! Order your copy now through this link for only £25 or £16.50 using discount code ASH04
It's the ideas, Stupid…

You learn a lot from writing. Many organisations have picked my brains either on paper or in person. 'Help us think', they say.
They've included Calouste Gulbenkian Foundation, Tomorrow's Company, NYA, WAGGGS, the Co-operative Council Network, DSC, NHS Change Day, Collaborate, PLMR, Int. Social Innovation Research Conference, ICRS, International Association of Voluntary Effort (IAVE) and more! I spoke about my SME work at IAVE's 2014 conference in Australia.
To those who have influenced this journey…
Thank you
To Fiona Halton, then of Pilotlight, my first 'proper' client. I helped develop the idea of 'Pilotlight Connect', better targeting the skills of business leaders to grow small charities where this was most needed.
To Good People, my most enduring client. Since 2012 Richard Tyrie's entrepreneurial commitment to social change has been inspiring (I'll never forget us explaining to Iain Duncan Smith how Good People out-performs the Work Programme). Now watch out forTransition Force…
To Jonathan Norman and team at Gower publishers, you gave me everything a new author could want (and to Professor Cary Cooper for making the introduction).
To Pam Webb at Zurich Community Trust (and the London Benchmarking Group) for showing me that business can be a force for good when it tries (and supporting me from the start).
To Serco, who called me in to analyse their partnerships with charities and advise on how to take them further (before everything went pear-shaped for them).
I've known the Youth Hostels Association for nearly 50 years! CEO Caroline White knows just when and how to use my experience best to help further a great cause.
To Angela Clements, Fair For You CEO: together we'll lead a revolution! Tackling poverty via ethical lending, really 'using the tools of business to create public good'.
To Richard Ellis of Boots, who launched my second book for me because we just see eye to eye on everything to do with 'business for good'.
To Diane Jeffrey, for recruiting me to Digital Outreach who inform and up-skill communities through voluntary sector networks (Ian Agnew and team). Exactly the right outlet for me – and a Derbyshire link! Exciting stuff…
To Journeys for Change who helped me explore what 'using the tools of business to do good' means on trips to India and Brazil, a massive part of my recent education.
To the team at Concern Worldwide (UK) where I was Chair of Trustees 2011-14 and who do such a great job.
Many friends' regular chats have influenced where this career has taken me: Alison Seabrooke, Victor Adebowale, Richard Williams, Caroline Slocock, Martin Jervis, David Blunkett… and powerful brief moments with Paul Polman of Unilever and 'Shared Value' Professor Michael Porter.
What convinced me that business could not only do good but be supported by a business case to do so? An eye-opening trip to South Africa in 2008, courtesy of Nestlé…
What's new?
Member of Advisory Panel on Sustainability, Walgreen Boots Alliance, specialising in community engagement (via Tomorrow's Company)
So where am I now?
A good question! The Sector 4 Focus portfolio has several fixed points, some paid, many not. Here are the current ones…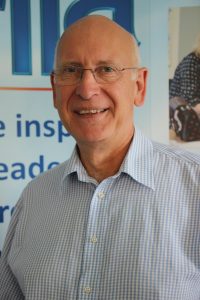 Chair of Trustees, Fair For You
Trustee, The Work Foundation
Trustee, Parliamentary Outreach Trust
Non-Executive Director, Digital Outreach Ltd
Assessor, Clore Social Leadership Programme
Chair, the Coalition for Efficiency
Non-Executive Director, Good Measures business consultancy
Hon. Doctor, University of Derby
Fellow of the RSA
Volunteer, Crisis at Christmas and ShareAction's AGM Army; training Greenpeace's amateur lobbyists (and Olympic Gamesmaker, 2012)
Associate, Institute for Corporate Responsibility and Sustainability
Facilitator and speaker, Ella Forums (for charity leadership)
Member, Association of Chairs
Steering group member, A Call to Action for the Common Good
Writer: for CBI Great Business Debate, Progress, Guardian Voluntary Sector Network, etc.
…and Season ticket holder, Brentford FC